Histórias de Vida em Educação: A Construção do Conhecimento a partir de Histórias de Vida
This publication collects the papers presented at the III Conference on Life Stories in Education – Knowledge construction from life stories, held at the Faculty of Psychology and Educational Sciences of the University of Porto on 8 and 9 of November 2012, and organized by the Centre for Research and Intervention in Education.
The various papers expand the reflection on the use of life stories in education as a process of research and of the construction of an irreplaceable, specific and relevant kind of knowledge for professional training and development of teachers and researchers, as well as to explore relationships and procedures coming from each one of the presented examples.
This publication provides a picture of the debate that took place at the University of Porto and shows the vitality of that community, which includes university teachers and researchers as well as master and doctoral students from Spain, Portugal, Mexico, Chile, Switzerland, Argentina and Brazil.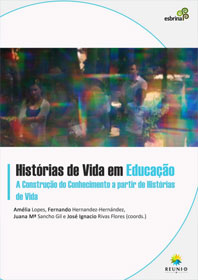 Authors
Amélia Lopes
Fernando Hernández
Juana Mª Sancho
José Ignacio Rivas
Download