Cap a una escola secundària inclusiva: sabers i experiències de joves en situació d'exclusió
This project revises the concept of scholastic failure through the development of ten young people's biographical stories -seven boys and three girls- who are at risk of scholastic exclusion. From this frame the research has been articulated around three axes:
Mapping the studies done so far in Catalonia around the so-called scholastic failure, with the purpose of identifying the dominant discourse.
The research around the biographical accounts of a young people's group to explore alternatives to the current secondary education crisis reflected, among others phenomena, in the high number of early students' leaving of this educational phase.
The study finishes up with a set of considerations aiming to contribute to the development of a narrative in favour of an inclusive secondary school ready to take into account the knowledge and experiences of young people that, for different reasons, do not obtain a secondary school certification.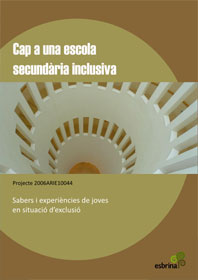 Authors
Fernando Hernández
Download