Dones a la ciència i a la universitat: la construcció de la identitat docent i investigadora en contextos de desigualtat
This report presents the process and the results of the study "Women in the Sciences and the University: The contribution of educational and investigatory identity in contexts of inequality" (2007 RDG 00001) funded by the l'Agència de Gestió d'Ajuts Universitaris i de Recerca (AGAUR) in the call to support the study of inequalities that originate in differing gender motives in both scientific and university contexts (RDG) for 2007.
The purpose of this project has been to explore and reconstruct the personal and professional experiences of three generations of women in the process of constructing their identity as teachers, researchers and managers. The research is presented through the elaboration of 8 professional life stories which allow us to understand the relations between their trajectories and their working conditions, as well as find out how they became the kind of women teachers, researchers or managers they are today. The research also provides information about the relationship between their personal experiences and the development of their professional careers.
This process brings to light the strategies of adaptation, resistance and creation that the women develop in their interactions with teaching, research and management contexts; the forms of symbolic violence that they experience; and the changes that have occurred in research centres and Catalan universities from the perspective of gender in the last thirty years.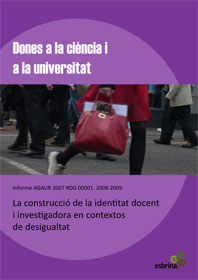 Authors
Juana Mª Sancho (coordinator)
Download