The group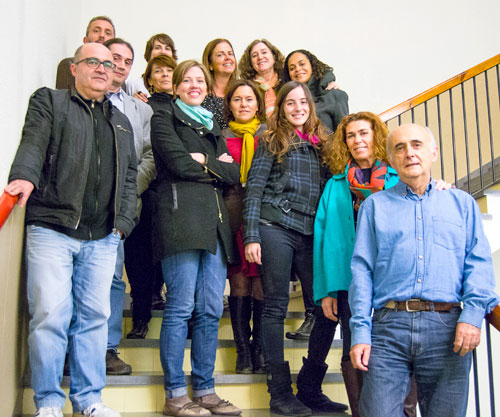 The consolidated research group Esbrina — Subjectivities, Visualities and Contemporary Learning Environments (2017 SGR 1248, 2014 SGR 632) — Subjectivitats i entorns educatius contemporanis (2009SGR 0503) before — has evolved from the consolidated research group founded in 1995, Formació, Innovació i Noves Tecnologies — 1995SGR 354, 1996SGR 111, 1998SRG 44, 2000SGR 14, 2001SGR 37, 2005SGR 431. The name change responds to a need to more clearly reflect the type of research, studies and knowledge transfer carried out by an interdisciplinary group — composed of students and professors from Pedagogy, Psychology, Anthropology, Sociology, Philosophy, Computer Science, Fine Art and Art History who are deeply interested in the conditions and current changes taking place in education, and who are associated with different departments in the Universitat de Barcelona, Universitat Autònoma of Barcelona, Universitat Internacional de Catalnya and Universitat Oberta de Catalunya.
The group's research program is based on the evidence that putting into practice those pedagogical proposals that respond to current educational needs (at times contradictory and paradoxical) demands an awareness of the processes involved in the construction of subjectivity–in a world that is complex, changing and heavily mediated by digital technologies–of subjects who move between different formal or informal educational environments.
Research Areas
The institutional, organizational, technological and symbolic dimensions of contemporary learning environments.
The role of different languages ​​and visualities in the constitution of subjectivities and learning.
The roles of digital and visual culture in teaching and learning in the knowledge society.
Our position
As a group, we take a constructionist perspective, which means:
We are guided by frameworks that enable us to approach the experiences of others without reifying or accommodating them to our agenda of interests.
To maintain the tension at the boundaries of the relationship between those who do the research and those with whom (or on whom) research is done.
To consider naturalistic and narrative methodologies such as ethnography, biographical practices and arts-based research as forms of inquiry and as tools to recount the experiences (ours and others') that occur in the phenomena we approach.
To maintain research ethics based on a reciprocal relationship with the other.
Maintaining this position when working on research projects implies:
A way of knowing (epistemology) that is not predetermined, but is articulated in relation to the other, to what they tell us, to what is generated in the group, to the references we place as a counterpoint for discussion, and with the inferences that this dialogue of multiple voices provides.
Modes of inquiry (methodology) on which we sometimes know where we start, but not where they will lead us. In our path, we do not seek shortcuts to answer what we already know, but we try to surprise ourselves with new questions and findings that we did not imagine existed beforehand.
A political position (praxis) that leads us to recognize that all research is ideological, in the sense that it projects – and sets – a story about the parcel of this thing called reality that it approaches to describe or understand. If anything, what constructionism reveals is that there is no values-free science. The issue is when they are not overt and made ​​public, pretending to hide them behind the artifice of neutrality and objectivity, camouflaged within the use of jargon and symbols.