Historias de vida en educación: sujeto, diálogo, experiencia
This report brings together the work that was shared in the Symposium on Life Histories in Education II: Subject, Dialogue and Experience (Málaga, Spain,June 9th – 10th, 2011). This collection of work is characterized by its diversity, and sometimes by contradictions in its different ideological and conceptual positions, which allows this report to enrich debate and provoke critical reflection.
The texts are divided into four chapters. The first explores the subject, or the relationships between subjects in an investigation. The second addresses how narrative and life histories can become tools for change. The third looks at the interview as a space of encounter and dialogue and its place in the research process. The fourth, most complex chapter in the volume, presents work that speaks of experience as a necessary focus for studies that use life history methods.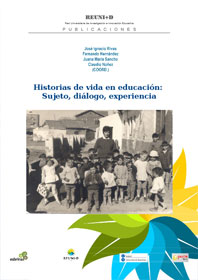 Authors
José Ignacio Rivas
Fernando Hernández
Juana Mª Sancho
Claudio Núñez
Download