La perspectiva DIY en la universidad: ¡hazlo tú mismo y en colaboración!
This publication gives an account of the process carried out in the development of two projects based on some contributions of the DIY perspective (do it yourself) to university teaching. We present the fundamentals of the projects and the phases of their development:
Training of teachers;
Implementation in ten subjects of Fine Arts, Pedagogy, Social Education and Primary and Secondary Education;
The tensions and contributions that arise in the process;
And the role of digital visual objects (OVDs) that students generate to reflect their learning paths.
All this in order to discover new ways of learning that are closer to the realities and needs of the students, and to rethink the role of the teacher to face the challenges of a changing world.
Index
Resumen
Introducción (Fernando Hernández y Hernández, Juana M. Sancho Gil)
1. La perspectiva DIY y la trayectoria del Grupo Indaga-t (Juana M. Sancho Gil, Fernando Hernández y Hernández)
2. Lo que hemos aprendido en torno a la filosofía DIY en un seminario de formación en la universidad (Anna Majó Rossell, Judit Onsès Segarra , Joan-Anton Sánchez Valero)
3. Llevar la perspectiva DIY a las relaciones pedagógicas en la universidad (Fernando Hernández y Hernández, Juana M. Sancho Gil, Anna Majó Rossell)
4. Llevar la perspectiva DIY a las relaciones pedagógicas en la docencia universitaria: presentación de casos
4.1. La experiencia transversal en educación social (Leticia Fraga COLMAN, Adriana Ornellas Rios da Silva, Elisabet Higueras Albert, Anna Forés Miravalles)
4.2. La perspectiva DIY en los proyectos de indagación en la cultura digital y visual (Juana María Sancho Gil, Judit Onsés Segarra, Fernando Hernández y Hernández)
4.3. Entornos, procesos y recursos tecnológicos de aprendizaje en el Grado de Pedagogía (Pablo Rivera Vargas, Joan-Anton Sánchez Valero)
4.4. Visualidades contemporáneas: entre lo analógico y lo digital (Aurelio Castro Varela, Fernando Hernández y Hernández)
4.5. El proceso DIY para narrar y compartir las trayectorias de aprendizaje (Raquel Miño Puigcercós, Cristina Alonso Cano)
4.6. La evaluación de los objetos visuales digitales (Fernando Hernández y Hernández, Judit Onsès Segarra)
5. Aportaciones y tensiones de la CULTURA DIY en la universidad (Judit Onsès Segarra, Raquel Miño Puigcercós, Cristina Alonso Cano)
6. Líneas de investigación que surgen del proceso seguido (Fernando Hernández y Hernández, Aurelio Castro Varela, Paulo Padilla Petry)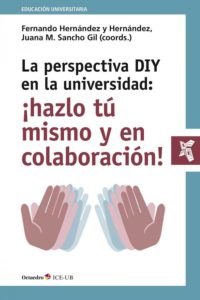 Authors
Fernando Hernández y Hernández
Juana M. Sancho (coords.)
Editorial Octaedro, 2017
Buy