Professores na Incerteza
What does it mean to be a teacher in the world of today? How do you learn to be a teacher? Does teacher training reflect the technological, economic, cultural and social transformations that affect us?
This work brings together topics which represent the main influences in the process of learning to be a teacher. Something of interest to teachers, schools, families, educators, policy makers and all those who are committed to an education that responds to today's challenges.
Main topics of the book:
Changes in the teacher profession in recent years: the challenges of a society profoundly transformed
Training and employment decisions that influence learning to be teachers
The initial formation of the teacher's identity
The role of colleagues in the constitution of a teacher's identity
The relationship between childhood and school from the perspective of new teachers
The paradoxes of social commitment and recognition of teachers
The constitution of (teacher's) subjectivity in a post-Fordist context
The scenarios to challenge and expand lifelong learning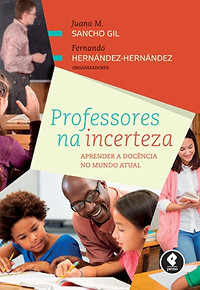 Authors
Juana M. Sancho
Fernando Hernández
Editora Penso, 2016
Buy