Beyond
In this session of the web we collect interventions from those who form the research group Esbrina, that take place outside of academia. Because today more than ever we have to explore and participate in educational and social environments that generate other modes of relationship.
XIX Premis eduCAC
Categoria A. Centres educatius. Treballs de centre
TREBALL PREMIAT: Institut escola Pepa Colomer (El Prat de Llobregat). Pepa Fest: Festival d'audiovisuals de gènere.
El centre duu a terme uns laboratoris audiovisuals de gènere amb la finalitat de reflexionar sobre com el gènere afecta al dia a dia de les estudiants a través de la creació audiovisual. Participen les classes des de 3r de primària fins a 2n d'ESO. Aquests laboratoris són part del treball de camp de la tesi de Silvia de Riba.
+ INFO
Educação contemporânea e as tecnologias para pensar: uma entrevista com a professora Juana Sancho Gil
Esta entrevista apresenta as reflexões da professora Juana Maria Sancho Gil acerca dos desafios que a educação contemporânea precisa enfrentar. Emérita da Universidade de Barcelona, Juana Sancho dedicou uma vida a estudar a escola, os modos de aprender e de ensinar, as tecnologias educacionais e a formação de professores. Em sua trajetória profissional, um vínculo com o Brasil se construiu, com significativas contribuições à projetos de pesquisa educativa. Nesta entrevista, a professora Juana reflete sobre a educação contemporânea, a escola e o processo de formação dos professores. Fala, também, de suas ideias sobre as tecnologias para pensar.
Download
Educar en moments d'incertesa
Fernando Hernández Hernández
Juana M. Sancho Gil
La incertesa, una oportunitat per educar
De la Llar d'infants al Batxillerat
Centre de Lectura de Reus
2 de març 2021
WATCH
Tecnologia digital e educação. Além do solucionismo tecnológico.
Encontro de Licenciaturas e Educação Básica. UFG 28 de setembro de 2020.
Juana M. Sancho Gil. Universidad de Barcelona.
Tecnologias da Aprendizagem e a Educação Contemporânea
Digital learning: distraction or default for the future
On July 1st, 2020, issue 37 of the Digital Education Review magazine was published. It includes the monographic "Digital learning: distraction or default for the future", coordinated by Cristóbal Cobo and Pablo Rivera Vargas. The dossier is made up of 14 articles that focus on problems in 12 countries.
The objective of this monograph is to make visible those initiatives for the insertion of digital technologies in school contexts which, for various reasons, have not worked. These contributions allow us to identify the mismatch that occurs not only between expectations and reality, but also between policies and practices.
You can read the editorial that the guest editors wrote to introduce the issue here . You will find the complete list of published articles in this link.
+ INFO
Hablemos de Educación, ep 8 – ¿Cómo aprenden los docentes?
«Me han sorprendido quienes afirman que la pandemia ha revelado la desigualdad, ¿De verdad no lo sabían?»
Jaume Carbonell interviews Juana M. Sancho for El Diario de la Educación. June 15th, 2020
+ INFO
Reflexiones desde un encuentro con la señorita Juana Mari
Paniza por la Educación.
Párvulos 1970-1972
Afectos, Implicación y Responsabilidad
Paniza (Zaragoza) 27 de abril de 2019
+ INFO
Pensar la educación (y las humanidades) desde el posthumanismo
Presentación de Fernando Hernández-Hernández
I Congreso Internacional Humanidades Digitales y Pedagogías Culturales
Valencia 7 y 8 de novembre de 2019
Tramas y derivas entre las Humanidades, lo pedagógico y lo digital
Ponencia inaugural de Juana M. Sancho Gil
I Congreso Internacional Humanidades Digitales y Pedagogías Culturales
Valencia 7 y 8 de novembre de 2019
Honorary doctorate for Juana M. Sancho
Juana M. Sancho received on March 6, 2019, the honorary doctorate from the Autonomous University of Mexico State. You will find the video of the ceremony linked below.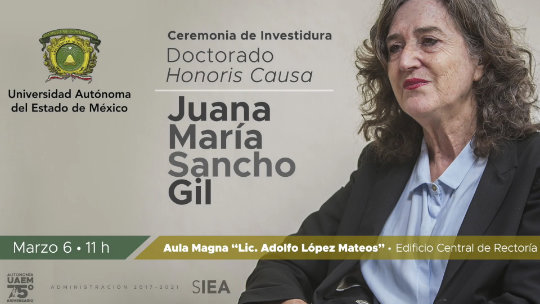 Escoles Magnet Program
Educational innovation project of three years in which each school collaborates with a cultural or scientific institution to rethink its practices in the school and the identity of the center. Judit Onsès collaborates as a trainer of the Mas Casanovas School, in collaboration with Recinte Modernista de Sant Pau and Hospital de St. Pau (Barcelona).
IntersECCions Project
Social project of the city that promotes the creation of networks of collaborative work between the different entities, associations, institutions and educational centers of the different neighborhoods. Judit Onsès collaborates as a teacher of visual and plastic teachers at the Ramon Llull school in collaboration with the Escola d'Arts del Prat (El Prat del Llobregat).
Educar de una forma diferente
Interview with Juana M. Sancho and  Fernando Hernández at the Universidad de la Laguna's website.
+ INFO
First Literary Dates: un proyecto para promover la pasión por la lectura en el alumnado de secundaria… ¡y mucho más!
Miño, R., Perelló, M., i Sancho, J.M. (2018, May 14). El diario de la educación.
+ INFO
"d'enamorar-se així, d'equivocar-se així, d'exposar-se així,"
L'Aparador, Museu Abelló (Mollet del Vallès).
From February 2017 to June 2018.
The exhibition series that we propose for L'Aparador of Museu Abelló (in Mollet del Vallès) starts from the idea of putting education at the center. That is, we ask ourselves how to consider and address education in a curatorial program, not as a subordinate practice but as a backbone.
Thus, we understand L'Aparador as a space with speeds and movements, which expands and contracts according to the needs of the moment, which is updated with the rhythm of the different processes that start it, which connects and disconnects of the various exhibiting proposals, which interacts with other places in the city and the museum, with the people that pass through them, with those that intervene, with those that act there from a distance.
A year and a half to experiment, try, fall in love, make mistakes and expose us, by unfolding four lines of flight exhibited and two lines of flight transversal to the exhibition series.
+ INFO
Construyendo una investigación educativa transformadora
Judith Arrazola, Sara Carrasco, Raquel Miño, Pablo Rivera, Cristina Salazar i Angelina Sánchez (2017). El diario de la educación.
+ INFO
La investigación científica y la academia no están fuera de la sociedad: conocimiento para la equidad social
Pablo Rivera Vargas, Rommy Morales Olivares
+ INFO
Columnas de opinión de Fernando Hernández Hernández en El Diario de la Educación
+ INFO
Columnas de opinión de Juana M. Sancho en El Diario de la Educación
+ INFO
La tecnología sola no mejora la enseñanza
Entrevista a Juana María Sancho Gil. La experta de la Universidad de Barcelona dice que faltan muchos cambios para que las TIC impacten en la escuela. La Voz, octubre de 2016.
+ INFO
Mediació / UNZIP 2016
Carlos Canales, Àngel Garau i Judit Onsès (El Prat del Llobregat, 2016)
Proposta de mediació entre els diferents artistes guanyadors de la convocatòria d'Arts Visuals UNZIP 2016, els membres coordinadors d'UNZIP, així com els diferents acompanyants. L'objectiu va ser establir un espai que fes confluir tots els processos per tal de fer dialogar els projectes i les persones vinculades als acompanyaments entre si, cercar sinèrgies i compartir tensions i reptes comuns.
+ INFO
Somnien els androides amb el museu del futur?
Sergi Selvas, Irati Irulegi i Judit Onsès (Barcelona, 2016)
Conceptualització i producció dels Casals d'estiu en col·laboració amb la Sala d'Art Jove, el Museu Nacional d'Art de Catalunya i la Fundació Catalana de l'Esplai. Durant dues setmanes amb nens i nenes d'entre 8 i 14 anys vam explorar el museu des de la nostra realitat i contemporaneïtat, així com construir noves narratives sobre els museus.
+ INFO
Fissures institucionals des de l'obertura
Dolors Juàrez, Isaac Sanjuan, Judit Onsès i Anna Majó (Barcelona, 2015-2016)
Des d'una posició de mediadors, vam indagar sobre el concepte d'obertura amb dues institucions culturals: l'Escola Dovella i la Fundació Antoni Tàpies. Això ens va portar a organitzar l'esdeveniment «Desviant l'atenció: jornada d'imprevistos itinerants», un encontre amb les dues institucions amb la intenció de no només compartir els processos de transformació en els que cada institució està duent a terme, sinó descentrar i descentrar-nos dels espais tradicionals de pensament i generació de discursos.
+ INFO
Amposta km.0
Judit Onsès i Mercè Ubalde (Amposta, 2015)
Projecte artístic-educatiu seleccionat a la convocatòria PIPA 2015, del programa l'Aula al Pati del Centre d'Art Lo Pati. El projecte s'adreçava a persones de qualsevol edat en situació d'atur o de precarietat laboral i a totes aquelles interessades en explorar processos creatius de treball per enfortir la comunitat, idear propostes d'autoocupació i formes alternatives de pensar el món laboral.
+ INFO
Premios de Investigación de la Universidad de Córdoba
Juana M. Sancho was in the jury of the research prizes of the University of Córdoba, awarded on December 2017.
+ INFO
Mirades Post-generacionals
Judit Onsès, Àngel Garau i Carlos Canales (Barcelona, Vic, Torelló, 2015)
Projecte educatiu seleccionat a la convocatòria Art Jove 2015 de la Sala d'Art Jove i en col·laboració amb el centre d'arts contemporànies ACVIC. El projecte es proposava incidir en la creixent distància que s'estableix entre els joves i les persones d'edat avançada en el marc de la cultura capitalista neoliberal. Es va establir així un marc de treball des d'on creuar mirades i generar produccions personals i col·lectives autobiogràfiques.
+ INFO
++ INFO
IES Sant Gregori. Vall de Llémena.
Seminari: Compartir el que som per aprendre amb sentit.
9 de setembre 2016 . Fernando Hernández-Hernández i Juana M. Sancho-Gil
Índice. Festival de Lectura y Escritura.
Santa Cruz de Tenerife. TEA Tenerife Espacio de las Artes. http://www.festivalindice.es
30 setptiembre-1 octubre 2016
Conferencia: Escenarios para la educación desde las artes. Fernando Hernández-Hernández
Taller: Aprender y enseñar métodos artísticos más allà de la clase de artes. Fernando Hernández-Hernández
Escola Itaca. Manresa. Barcelona. http://www.escolaitaca.cat/
Taller: Allò que fonament els sentits de l'aprendre a la nostra escola.
Octubre 2016-Febrer, 2017
Fernando Hernández-Hernández
Taller: Repensar la proposta educativa de l'escola des de la perspectiva dels projectes de treball.
Escola Ciutat d'Alba. Sant Cugat. Barcelona. http://www.escolaciutatdalba.cat/
Setembre 2016-Febrer, 2017
Fernando Hernández-Hernández