How are Spanish academics coping with changes? Responses from a life histories research
This report is part of the research project, The effects of social changes in work and professional life of Spanish academics, partially financed by the Spanish Ministry of Science and Innovation (SEJ2006-01876), that has explored change in legislation, organisation, research schemes and so on, in the last thirty years.
The main aim of this project is deepening our understanding of the impact of undergoing economic, social, cultural, technological and labour change in Spanish universities in the life and professional identity of the teaching and research staff, taking into account the national and european context. This paper gathers part of the results gained from the project, being its primary objective to contribute to an improved knowledge-base on professional knowledge and work experience in higher education institutions in Spain and, as a consequence, to understand how Spanish academics are coping with current changes.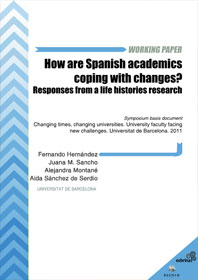 Authors
Fernando Hernández
Juana Mª Sancho
Alejandra Montané López
Aida Sánchez de Serdio Martín
Download